A specialized, real-time medical search engine powered by AI that generates actionable insights and answers critical business and research questions based on the universe of published medical information.
Built on a powerful artificial intelligence platform, the DocSearch database contains over 65 million biomedical citations, 108 biomedical relationships and 5.3 million medical concepts. DocSearch uses powerful natural language processing technology, with public and proprietary medical ontologies based on leading evidence-based medicine methodologies.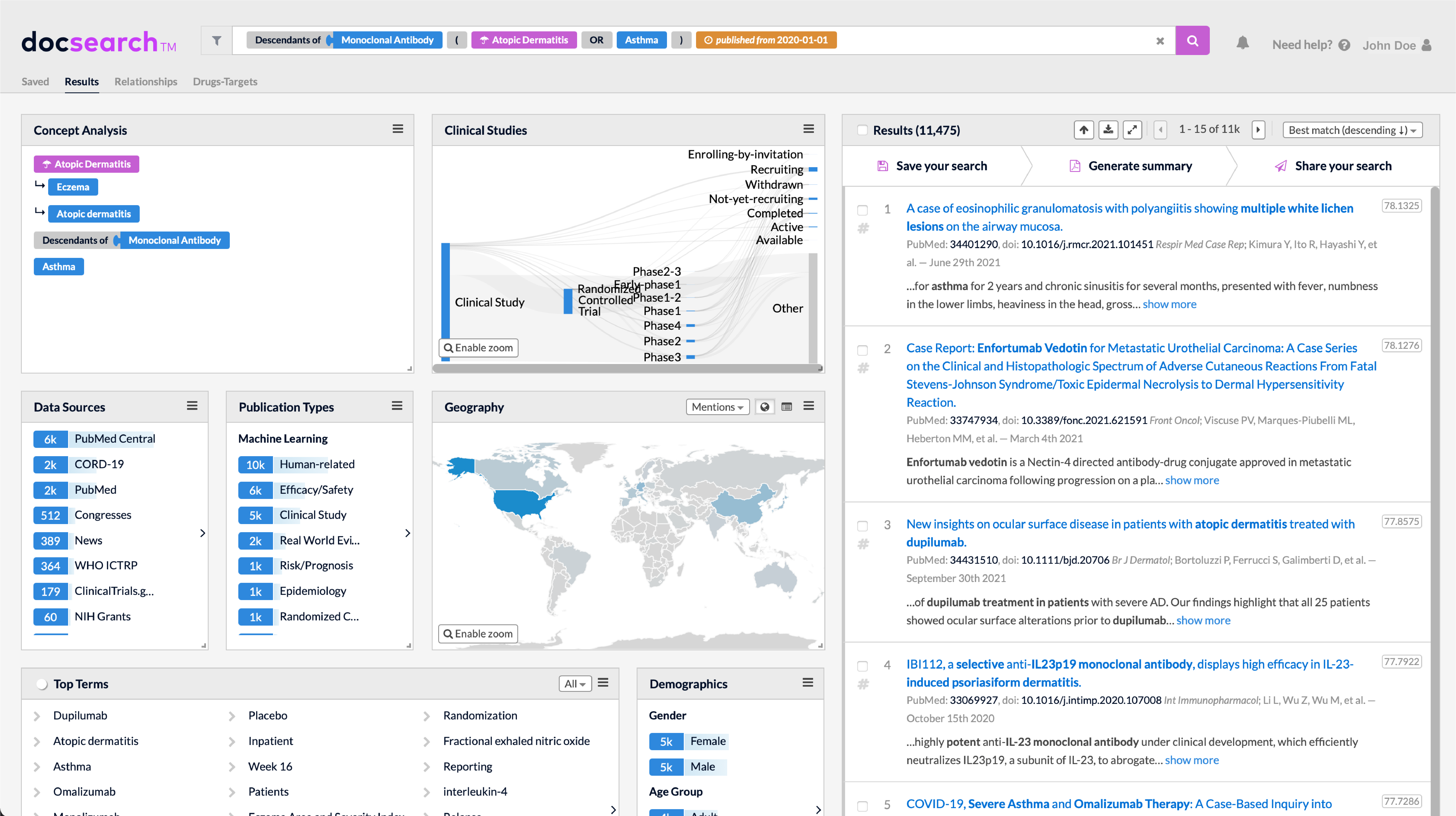 DATA SOURCES
Research literature
PubMed/MEDLINE
Conferences
Top-tier conferences (mtg abstracts)
Clinical trials
Clinicaltrials.gov, WHO clinical trials
Global Patents
Drug labels
FDA DailyMed, regulatory documents
500 curated RSS feeds
Spanning social, news, and official sources
Access to open full-texts and pre-licensed content
Publicly available sources through external licenses
EXPLORE THE VAST UNIVERSE OF PUBLISHED


MEDICAL INFORMATION ACROSS FUNCTIONAL AREAS
Research & Development
Research & Development teams will be able to conduct landscape analyses, speed the discovery process and bring new products to market faster by efficiently mining medical literature to address biological plausibility of molecules and targets and conduct landscape analysis. DocSearch can also help inform your approach to trial design, and seamlessly identify investigators and trial sites to attract appropriate patients.
Regulatory Affairs
Regulatory Affairs teams can conduct robust competitive landscape analysis and investigator profiling to inform strategy and drive commercial success. DocSearch can simplify literature searches to establish justification for patient unmet need with regulatory authorities and it can help your department become a strategic cross-functional partner throughout the product lifecycle by providing real-time, actionable insights.
Medical Affairs
Medical Affairs teams can quickly derive actionable, real-time insights from the world's largest database of published literature to inform strategic planning, conduct landscape analyses and stay up to date using a "living library" of relevant sources.
Real-World Evidence
Real-World Evidence teams can quickly derive actionable, real-time insights through search and continuous monitoring of literature, trials and real world evidence, plan real-world studies and develop a deep understanding of the landscape.
HEOR/Market Access
HEOR/Market Access teams can easily search vast volumes of published medical literature to derive novel, market-relevant insights to bolster product value stories, explore real-world evidence and inform modeling for value-based contracting.
PV/Epi/Safety
PV/Epi/Safety teams can more readily ensure patient safety throughout the product lifecycle by identifying and annotating safety signals from case processing systems. DocSearch can quickly and easily mine volumes of medical literature to inform strategy, and accelerate your response time for safety-related regulatory requests.

Commercial
Commercial teams can drive strategy by using real-time competitive landscape intelligence.
See for yourself what Dr.Evidence can do for you

Request a personalized demo