The industry gold standard, cloud-based labeling intelligence solution that enables rapid prior precedent research, automated comparisons and competitive monitoring to inform product strategy and development.
Deployed by the top pharma companies, DocLabel™ lets the user compare drug labels across the US, UK, EU, Canada and Australia and provides real-time updates.
What's new
Streamlined, intuitive user interface with a clear workflow to increase your efficiency
Guide bar on the results page enabling you to quickly compare, download, upload, filter, sort and save your label search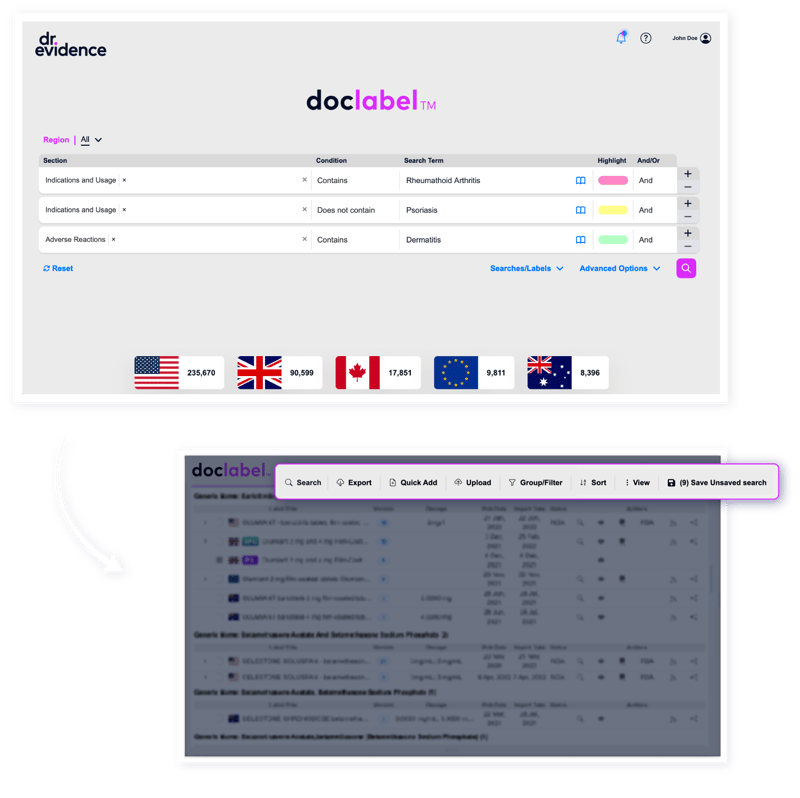 DATA SOURCES
US package inserts
Canadian product monographs
UK summaries of product characteristics
EU summaries of product characteristics
Australian Labels
Local country uploads
Proprietary core data sheet across label comparison
UNLOCK NEW POSSIBILITIES IN


EFFICIENCY ACROSS FUNCTIONAL AREAS
Research & Development
Research & Development teams can develop more differentiated clinical trial design through comprehensive and intuitive searches for specific outcomes.
Regulatory Affairs
Regulatory Affairs teams can drive commercial success by leveraging comprehensive labeling intelligence to review prior precedent, compare and annotate labels and continuously monitor areas of interest. DocLabel allows your teams to spend more time on strategic activities as well as respond more rapidly to requests from healthcare authorities during label negotiations.
Medical Affairs
Medical Affairs teams can gather real-time intelligence and support product strategy.
PV/Epi/Safety
PV/Epi/Safety teams can more readily ensure patient safety. Automated monitoring of adverse events and real-time surveillance of competitor labels can not only identify class effects or potential signals, but also accelerate your response time to safety-related regulatory requests.

Commercial
Commercial teams can leverage labeling intelligence to better understand competitive landscape and drive commercial and product development strategies.
See for yourself what Dr.Evidence can do for you

Request a personalized demo