Viewpoints
Published Poster and Paper on Rare and Orphan Kidney Diseases Featuring Dr.Evidence
How valued clients Domenico Merante and Henrik Schou from CSL Vifor are seeking to empower patients suffering from rare and orphan kidney diseases to self-manage their condition.
Highlights from our conversation about "The Urgency of Generating Real World Evidence Data to Bridge an Existing Gap between Randomized Clinical Trials and Clinical Practice in Rare and Orphan Kidney Diseases."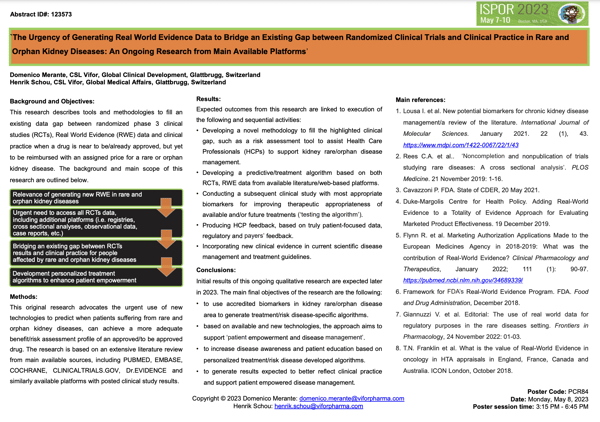 Domenico Merante and Henrik Schou have a vision: that patients diagnosed with rare and orphan kidney diseases are empowered to manage their own disease and treatments.
The identification and validation of HBA1c as a biomarker for diabetes revolutionized care and enabled patients to take control of their own treatments. Domenico and Henrik believe the same approach can be applied to rare and orphan kidney diseases. They started by searching through scientific literature and clinical trials to capture evidence on biomarkers that may link kidney disease symptoms to kidney function.
"I would have needed to input 200 terms into a different search engine. With the Dr.Evidence ontologies, I was able to plug in just a few terms and it made my search faster and more targeted." - Henrik Schou, Vice President, Global Head, Evidence Generation, CSL Vifor
They will then narrow their research to the most accredited pool of biomarkers to identify any significant link with disease progression, clinical monitoring and most meaningful to people's clinical signs and symptoms. Expected outcomes of this research include developing a novel methodology to fill existing gaps between randomized clinical trials and clinical practice, such as a risk assessment tool for Health Care Professionals (HCPs) to support already treated or in future treatments of rare and orphan kidney diseases, developing treatment algorithms. The plan is to subsequently conduct clinical study research from early clinical stages by using the most accredited biomarkers, then gathering HCP feedback and finally incorporating new clinical evidence in disease management and treatment guidelines/algorithms. This is a 'journey', which requires multiple collaborations, multidisciplinary work, and a great deal of expertise, passion, dedication, and financial support. The vision is to establish a Foundation, which can thoroughly support this research project.
"Tapping into the right resources is vital – using Dr.Evidence tools we have just started this journey and are now identifying biomarkers across rare and orphan kidney diseases where treatments were approved. Preliminary results from this search will be presented at the ISPOR Europe in Copenhagen this mid-November." - Domenico Merante, Vice President, Clinical Development, TA Lead Nephrology and Orphan/Rare Disease Area, CSL Vifor
In the not-too-distant future, these two colleagues hope to increase disease awareness and patient education based on personalized treatment/risk disease developed algorithms.
Read the ISPOR poster here
Read the article in Value in Health here
Read the article in Medhealth Outlook: 'Gaps, challenges and innovative technology in rare/orphan kidney diseases: an area characterized by a large unmet medical need. Are personalized treatment-algorithms feasible?'
UNLOCK NEW POSSIBILITIES IN


SCIENCE