A robust evidence synthesis solution generating real-time pooled analysis insights to inform strategy, product differentiation and explore hypotheses that advance market position.
Powered by AI and the world's largest database of published medical literature, our cloud-based DocAnalytics solution leverages a vast range of pooled analytical methodologies and generates clear visualizations in minutes.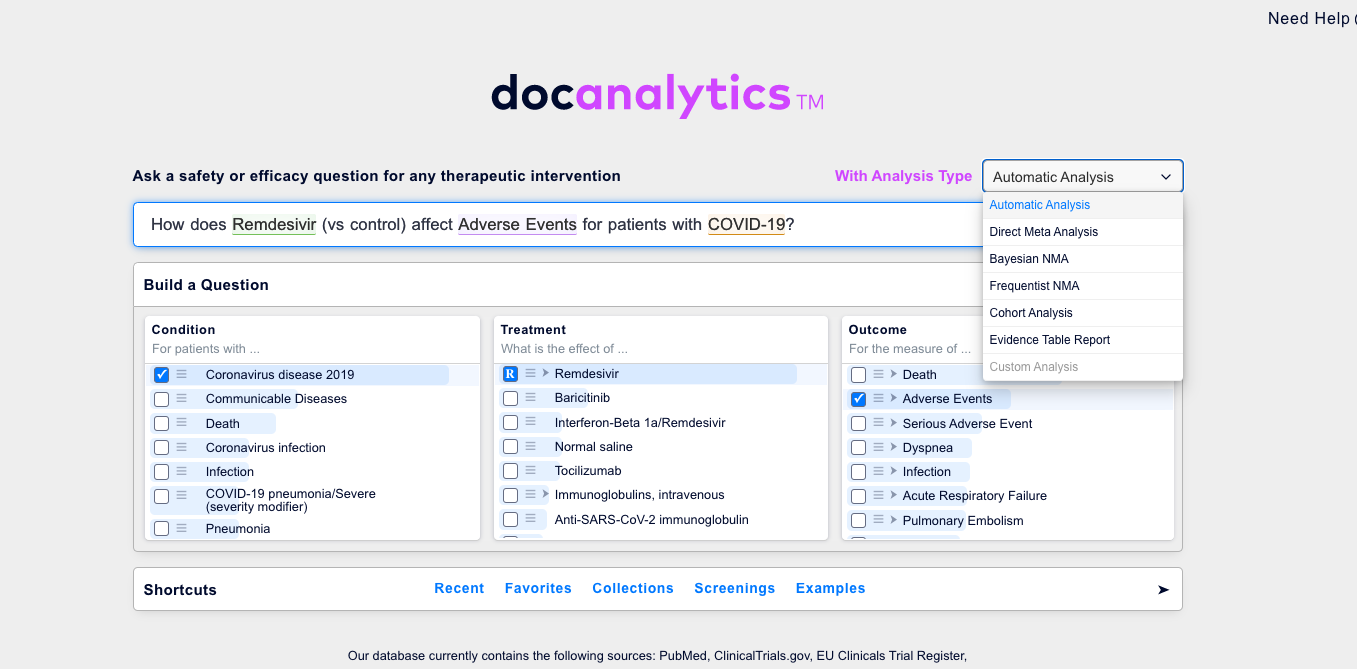 DATA SOURCES
Pre-configured, pre-curated content
Clinicaltrials.gov
30,000 Dr.Evidence- curated articles
Available via rapid extract
Any abstract or full-text
Any summary-level clinical data
Proprietary data
Internal curated data via external agency
Clinical study reports
Custom study upload
SYNTHESIZE EVIDENCE WITHIN MINUTES


TO INFORM STRATEGY ACROSS FUNCTIONAL AREAS
Research & Development
Research & Development teams will be able to rapidly uncover valuable insights to inform lifecycle management and identify opportunities for drug repurposing, ultimately leading to improved regulatory and commercial success. DocAnalytics can also optimize clinical trial design and identify sample size, endpoints, target populations and more, through rapid, comprehensive searches of existing precedent and comparative trial data.
Regulatory Affairs
Regulatory Affairs teams will see faster, more robust analyses of clinical trial data and real-world evidence to inform discussions with regulators. DocAnalytics can also enable your teams to respond to inquiries from regulatory authorities faster and help your department become a strategic cross-functional partner by analyzing massive volumes of medical literature.
Medical Affairs
Medical Affairs teams will be able to translate volumes of published literature and data into actionable quantitative insights to inform clinical trial development.
Real-World Evidence
Real-World Evidence teams can effectively plan real-world studies by proactively identifying potential viable patient population subgroups and undesirable ADR profiles, as well as determine unmet need and gaps in evidence.
HEOR/Market Access
HEOR/Market Access teams can use DocAnalytics to analyze the vast volumes of published medical literature to derive novel, market-relevant evidence that bolsters product value stories, and informs modeling for value-based contracting as well as NMA feasibility and HTA submission.
PV/Safety
PV/Safety teams can analyze the plausibility of class effects and perform rapid benefit risk assessments based on real-time literature and clinical trial data.

Commercial
Commercial teams can drive commercial strategy with a quantitative data analysis or competitive landscape analysis.